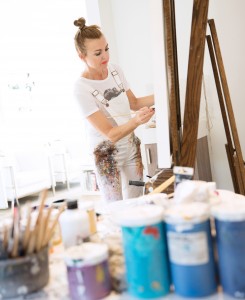 "My work is an attempt to capture the complexity of emotions that are conveyed in the human face. I'm inspired by taking a stroll through the city and absorbing everything around me, the people, the boutiques, the fashion and accessories… all somehow find their way into my work."
This skilled painter fuses contemporary figuration with a passion, with a flair for beauty, fashion and design. Chic and highly stylized, her large-scale portraits are animated, fun and vibrant. Her work is seductive, confrontational and dynamic, and are of today's female, effused with strength and sex appeal. Coiffed and posed, they exude wit and confidence. Often depicted with oversized glasses, and at times embedded with Swarovski crystals, the artist allows an auxiliary glamorization to those chosen images, and assigns them an alter dimensional aspect. As with Pop predecessors, Anja Van Herle proffers an engaging visceral dialogue on the impact of consumerism on present-day culture, its coetaneous effects, and aesthetical influences.
Born in Belgium 1969, Anja Van Herle has resided in Los Angeles since 2003. Los Angeles is the perfect environment to stroll in and absorb the cacophony of visual and tangible references that inhabits Anja's work, and where trend in style, beauty and design are foremost, and pronounced. Incorporating and melding the multiplicity of these impressions inspires her approach and becomes the subjects of her compositions. With emphasis on preparation, Anja works from variant sketches and with live models, staged often with props that she finds at the local flee marts. She will meld multiple images to recreate a unique and utterly captivating portrait.
Anja continues to enjoy an enthusiastic following. Her work is in both corporate and prestigious celebrity and private collections.