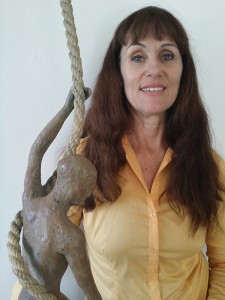 "We are not our bodies, we are our souls…" Tolla Inbar
Tolla's sculptures exhibit a mastery of cast bronze technique, defying its dense and weighty nature, into floating and ephemeral forms. Her figures are smartly and elegantly designed, and speak to mankind in his attempts at a purposeful existence beyond the vicissitude of everyday. The stories she articulates through these works are indicative of man and his determined efforts at reconciliation of the earthly realm of his incarnation, with the divine. For this artist, the process of creation remains intertwined with the philosophical. The figures assembled, in gravity defying assemblage, act in a collective, a hive, consumed by challenges and obstacles, and in constant pursuit of both a homogeneous and elevated existence.
Born in 1958 in Germany, Tolla now resides in Israel. Her extensive travels, adventurous spirit and insatiable curiosity along with her reverence for ancient cultures and soulful pursuits, add to the rich vocabulary ever-present in her works.