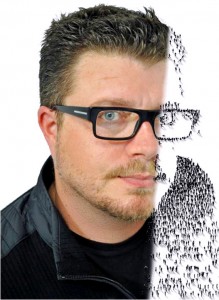 "Art needs to be responsible to its purpose – to inspire and enhance. Never quit."
Craig ALAN
Craig Alan is a Pop Surrealist, internationally recognized for his ingenious portraits of iconic figures and or images drawn from popular culture. He paints in a meticulously realistic style, a "nano" world, a microcosm of figures and fantastic scenes, which collectively form the architecture or construct of his subject. Perpetually in motion, these pixelations are intricately woven and assembled with a broad knowledge of the human form, the colorful world they occupy, and the ultimate and collective purpose of a realized image. Alan pushes the boundaries of the creative act and visual experience, as his work intends its deconstruction by the viewer, to examine its very construction, and further arouse a dialogue and social interaction, by reason of its achievement and artistic innovation.
Craig Alan's work is showcased in galleries in major cities across the U.S, U.K, Germany, France and Canada. His work is collected by many private and prominent collectors. The Canfin Gallery is thrilled to represent this great artist and his remarkable work.